This article is a stub. You can help by contributing any information to it.
Just press the edit button to start editing.
KUROFUNE is a unit consisting of Yuto Kuroishi and Keigo Kazama.
History
Formation and Name
Bored with playing in small locations and ready for a challenge, Yuto decided to enroll at D-4 Productions. But after he learns units are more successful and only they can perform in the approaching Battle Live event, he sets out to find a unit mate that can keep up with him.
Yuto sets his sights on a princely classmate the following day while at school, watching as he is being harassed by other students and does nothing to fight them off. Yuto puts a stop it, beating them up until they leave and he gets a drink for Keigo and explains his desire to have him join up with him for the Battle Live. Keigo instantly refuses, but is unable to think about anything else over the course of time- although he has convinced himself that there is no point in it, or else they will both be hurt. Rather than take this, Yuto tells him that he gave up, rather than stand and fight, but it's his choice to stay frozen in time if he wants.
After being beaten up again, Keigo uses the time to think over what Keigo told him once more, then, coming to a conclusion he returns to fight off the bullies when they attack Yuto and catch him off guard. Together they fight until the bullies flee the scene and together, they come to a mutual understanding. They share proper introductions with one-another and later debut as KUROFUNE on stage as the Battle Live takes place.
Unit Information
Relationships
Coords
Songs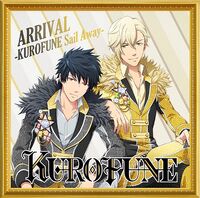 ARRIVAL -KUROFUNE Sail Away-/You Are Mi・Amore
Tracklist:

Release Date: November 23, 2016
FACE 2 FAITH
Tracklist:
Release Date: July 26, 2017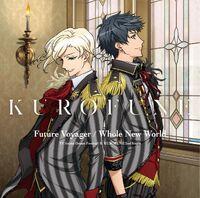 Future Voyager/Whole New World
Tracklist:
Release Date: November 22, 2017
Trivia
The name KUROFUNE (黒船) translation is likely "Black Ship". A "black ship" historically a Western ship, often painted with black tar, carrying cheap goods from the west. Currently the term "black ship" refers to cheap foreign imports that undercut the Japanese economy. Likely Yuto Kuroishi and Keigo Kazama produced this name by taking the Kuro (黒) meaning "black" from "Kuroishi" and combining it with Fune (船) which contains the Kanji radical Kaza or Fu (風) from Kazama. So their unit name is their names combined.
Gallery
Please refer to this group's Image Gallery.